OPTIMIZED WHEELS !

We are introducing here, an overview of our WHEEL production. Other products are on this website if you click on the other categories "Mad'in wheels" "Racing Wheels" "Vintage wheels" " Special wheels" " Split rims". They are all developped and manufactured on the spot here in Burgundy by our technical office and our skilled mechanics.
Design is also part of our achievements. We think that the technical side has to be shown up. We want to bring our racing experience to the streets.
The brand new forged model : the P07 wheel from Mad'in:

The Mad'In P07 wheel, shown in 19" Centerlock, and created for the PORSCHE GT3 R below :



The B05 wheel is a 5 multi spokes wheel. The centerpart is machined from a 6082 T6 forged aluminium block and heat treated for maximal resistance. It can fit a large number of cars like BMW or Mercedes, Audi... Technical, sober and lightweight, the B05, just like all of our wheels, is custom made and doesn't need any spacer. The finishing can be made following your wishes and the centerbore is machined for any kind of cap, including the original ones.

Here is the P08 wheel from Mad'in with gold ANODISED center, 5 lugs .
Here Model P08 in 18" with ALL BLACK finishing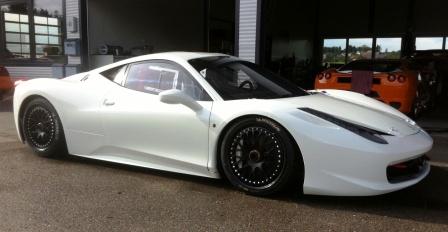 Wheels made for Ferrari 458 for both street andrace track use ! In 18" Centerlock, here FULL BLACK .
Once again, a MAD'IN wheel for track use !
P08 MAD'IN wheels, made in 15" diameter, for Ariel Atom

Of course, this website can't show you all of the MAD'IN know-how since 1975, so, don't hesitate to give us a call !
By email info@jante-madin.com or by phone: +33 385 57 75 88
PERFORMANCE WHEELS

Jante PORSCHE, AUDI, BMW, LOLA, CHEVRON, CORVETTE, VIPER, FERRARI, LAMBORGHINI, MASERATI, ASTON MARTIN, LOTUS, CATERHAM, VW, MERCEDES, and also competition wheels for single seaters, prototype wheels...All the MAD'IN Racing wheels are made for efficiency, when it comes to sticking to the ground, EVERY DETAIL COUNTS : adjusted offsets, lightweight, sturdiness... and of course, always the french touch !
MAD'IN Imagines and manufactures performance wheels for all the motorsport freaks.
Some examples of recent creations :
Porsche RS with Mad'in P08 wheels in 17 inches
Ferrari 430GT3 fitted with Mad'in 19 inches centerlock wheels
Contact us by phone +33 385 57 75 88 or by e-mail: info@jante-madin.com